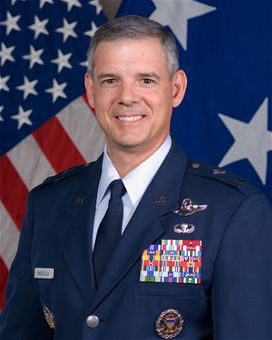 Good evening, I would like to thank you for inviting me to speak at what has become a truly prestigious event for Air Force officers here in Japan. I feel particularly honored to be invited today for two reasons. The first is personal to me. As many of you may know, when the JAAGA was formed in 1996, I was on my first assignment here in Japan. Its mission, to promote mutual friendship and understanding between the U.S. Air Force and the Japan Air Self Defense Force. With a common love of aviation and a desire to serve our countries as a foundation for that understanding, JAAGA has easily stood the test of time and every time I've come back to Japan since then, I've witnessed firsthand the tremendous work you've done. In many ways, the JAAGA mission mirrors the 5th Air Force mission. In my role as the vice commander of the 5th Air Force, I am charged with 3 primary mission areas that are the focus of the U.S. Forces in Japan and 5th Air Force Commander, Lieutenant General Rice.
  These are: Taking Care of Our People, Strengthening our Joint and Bilateral Defense Capabilities, and Building Better Relations with our Japanese counterparts and neighbors. As I stated, very similar to the JAAGA mission. This brings me to the second reason I'm honored to be speaking here tonight. This year is particularly special because it's the 50th anniversary of the Treaty of Mutual Cooperation and Security between the U.S. and Japan.
  Our relationship is based on the shared interests and values embodied by the treaty and the fact our alliance has stood the test of time is a testament to the importance our countries place on that relationship.
  When we talk about the treaty we often emphasize the security aspect, but it's the cooperation aspect that has really kept the alliance strong. As all of you understand as either former JASDF members or supporters of our common interests, it is usually the cooperation aspect that is most important.
There have been hundreds of projects that have strengthened our alliance over the years and many of those would not have been possible without those of you in this room. And so as I speak about some of the achievements we've seen over the last several decades, especially those that have been significant to the Air Force, I'd like to say thank you, as many of these would not have been possible without the efforts of those of you here tonight.
  Even prior to the signing of the 1960 treaty, in 1954, 5th Air Force played a role in helping to develop the Japanese Self Defense forces. One of the first tasks that we took was advocating for a separate JASDF. Having just become a separate service ourselves a few short years earlier, I can tell you from the U.S. perspective; this would have had special meaning to those originally involved. As in the U.S., the idea that a separate aviation corps was needed in Japan met with a lot of initial resistance, but as the JASDF has proven, a separate Service, dedicated to properly employing airpower is an indispensible part of a nation's ability to defend itself and I'm proud that 5th Air Force played a role in that part of our shared history.
  Moving forward a few years to the late 50s, the 5th Air Force would take on another strong advocacy role through its encouragement of the Japanese aviation industry. This included pushing to have Japanese companies manufacture some of the parts and conduct maintenance on U.S. aircraft and in helping to establish the contracts that allowed Mitsubishi to build F-104Js under license from Lockheed.
  Today, Japan is one of a small handful of nations in the world that can manufacture its own fighter aircraft and although I certainly wouldn't take credit for that as Japan has always had a reputation for superior aircraft, I am proud of the small role we were able to play in those early years. It was also around this time 5th Air Force and the JASDF began working together to hand over control of early warning radar assets to Japan. Such an event can only be accomplished through many, many months of hard work and dedication by a great many staff officers behind the scenes. I can imagine the pride they might feel now knowing how their work at the beginning contributed to a missile defense capability and interoperability unequaled by any other partnership in the world today.
So those were a few of the achievements that stood out in my mind of the many we've shared together. There are many more I could cover and I apologize if I missed an event that's personally significant to anyone in the room. But I thought I'd take the time I have left to skip forward to my current tour in Japan and some of the recent milestones of cooperation that I've witnessed.
  Many people look at some of the current challenges we're having and see it as a sign our alliance is not as strong as it once was, but if you look past that to the things that we have accomplished under the Defense Policy Review Initiative program you will see levels of security cooperation previously unheard of in the history of the alliance; programs and projects that will more than set us up for success over the next 50 years.
Our Aviation Relocation Training for example has made vast improvements recently that make the training more realistic, increases the amount of interaction between U.S. and Japanese participants both in the air and on the ground, and makes the scenarios more complex. Last year at Komatsu we conducted our largest event to date. This was also our first joint, bilateral event involving both U.S. Marine Corps F/A-18s and Air Force F-16s along with JASDF F-2s.
  I am a firm believer in this program and one of our goals is to expand it to include more locations, more diverse airframes and an even greater number of aircraft. The ATR program gets to the heart of the U.S Air Force mission here in Japan and promotes the same type of bilateral relationship and interoperability inherent in the JAAGA mission as well. I believe it to be one of the most important things we do and if any of you ever find yourselves in a position to advocate for it, I assure you we would be extremely grateful.
Even more significant will be the relocation of the Japan Air Defense Command to Yokota Air Base. When the ADC becomes operational at Yokota we will have a fully integrated U.S/Japan base for the first time in the history of the alliance and usher in a level of cooperation our predecessors couldn't have dreamed of.
  The growth and demonstrated threat of ballistic missile capability in East Asia, as well as rapidly modernizing air combat and air defense capabilities of other nations in the region, required a strengthened operational defensive capability and cooperation for the air forces of both the United States and Japan in order to maintain a credible deterrent capability. Coordinating forces in one key location sends a clear message that this is exactly what the alliance will provide. Equally important, however, is that the addition of around 1400 JASDF personnel who will become our new neighbors and provide both countries with the chance to build a better alliance at the individual level.
There are two other recent events I'd like to mention and although they are unrelated to the DPRI process they reflect well on the state of the alliance.
  The first was the transfer of Radar Approach Control in Okinawa from the U.S. back to Japan and the second was the recent deployment of equipment and personnel from the Japanese Self Defense Forces to assist with relief efforts in Haiti.
  The fact that the RAPCON transfer has gone virtually unnoticed by the millions of air travelers flying in and out of Okinawa is a direct testament to the hundreds of hours of work and training on the part of Japanese and U.S. personnel to ensure a smooth transition. Handing control of Japanese airspace back to the Japanese is also a clear symbol that our alliance is a partnership of equals.
Japan's relief efforts in Haiti demonstrated Japan's commitment to global security and I was proud to see the U.S. Air Force play a small role in that. I'm sure many of you know that the self defense forces were involved in Haiti relief operations, but you may not know the story of what took place behind the scenes to make this happen.
  At the time, there was a JASDF C-130 deployed to Travis Air Force Base in California on another mission. As you know, C-130s are the perfect aircraft for these types of operations but this one was without the cargo equipment needed and on the opposite coast from where it needed to be in the U.S. in order to assist. This is where the U.S. Air Force was able to help coordinate equipment loans and flights on short notice to ensure the JASDF were able to deliver a medical team of 25 U.S. doctors and 5 tons of supplies to Port au Prince. They were also able to return to the U.S from Haiti with 34 stranded American citizens and conduct several more round trip missions over the next couple of days. Having done my fair share of time as a staff officer over the years I know how we often complain about the slow wheels of bureaucracy but this was an excellent example of how when things need to get done, together, we WILL get them done.
  To the retired JASDF members in the audience, you should know that the fine general officers and colonels working in the air staff offices and the major commands are firmly entrenched in the successes of these projects. They are the reason we've revived the Air Component Issues Committee, an air component only, bilateral discussion forum chaired by myself and the Air Staff Office Director of Intelligence and Operations. One of the immediate outcomes of the ACIC was the recent coordination and signing of the Bilateral Cooperation Roadmap or BCR. The BCR not only fulfills General Hokazono and Lieutenant General Rice's desire for a strategic framework to guide interactions between our two Air Forces but will focus our discussions on 3 main priorities: to successfully implement DPRI Roadmap initiatives, to effectively accomplish the Alliance Transformation and Realignment Agreement initiatives and to promote bilateral training and exercises.
We will continue to refine and update that strategic vision with a 3-5 year look forward.
  And finally, these JASDF officers are the reason the training programs and operational successes of the Air Defense Command and Air Support Command are a model for cooperation in the Asia Pacific region.
  One final subject I'd like to discuss is the evolution of the U.S. Air Force organizations here in Japan. Specifically the 5th Air Force staff and the addition of 13th Air Force Detachment One. As many of you know, my position is dual-hatted. That is, I am both the 5th Air Force Vice Commander and the 13th Air Force Deputy Commander Forward.
In both of these roles, close interaction with the JASDF is critical. The 5th Air Force focus continues to be interaction with the Air Staff Office and DPRI along with the forums I just discussed like the ACIC and the Bilateral Cooperation Roadmap. The 13th Air Force though Detachment One works closely with operational commands for JASDF. This close interaction with ADC and ASC in exercises like Keen Edge helps prepare us for a broad range of contingencies including humanitarian assistance, disaster response and theater defense.
  Both staffs work closely together and I lead the Air Component Coordination Element while combining both organizations to support the USFJ commander and the 13th Air Force Commander, or Joint Forces Air Component Commander, in Hawaii.
  One final word about what's going on. I talked a lot about the past and present at the leadership level and I'm proud of all that we've accomplished there. But I would fall short if I didn't thank the young Airmen and officers in the JASDF and U.S. Air Force that make the mission happen every day. Our Air Force Chief of Staff, General Schwartz, and Secretary of the Air Force Donnely designated 2010 the Year of the Air Force Family to recognize and focus on the young families and thank them for all of their sacrifices.
I wanted to mention this for two reasons. First, because I try to recognize the efforts of our family members whenever possible and that we couldn't accomplish our mission without their support. This is as true in Japan as it is in the U.S. And second, because I consider all of us to be part of a larger Air Force family, tied together by that common love of aviation and air power that I mentioned at the beginning of this talk.
  And there you have it, I've gone on way too long but as I conclude, I'd like to thank you again for inviting me to speak today. Fifty years is a long time for two countries to maintain such strong ties and I've tried to highlight just a few of the things that have stood out in my mind. JAAGA is certainly one of those things. I'd like to think down the road one of my successors will be lucky enough to be addressing this same audience on the JAAGA's 50th anniversary. Well maybe not the EXACT same audience but you never know, the Japanese are famous for their long lives.
  I could probably talk to you for another few hours and only scratch the surface on the projects we've worked together over the years, but I wanted to allow time for any questions you may have. Arigatogozaimashita.